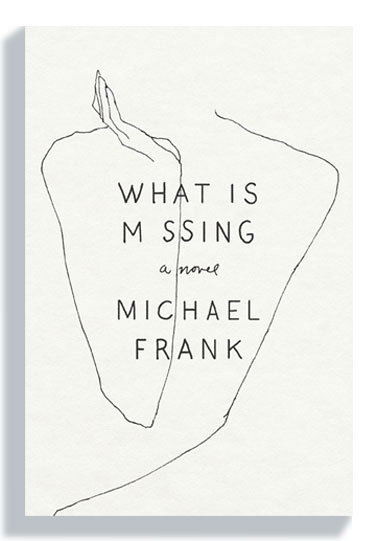 One of the hardest, most heartbreaking experiences that can come at a woman as she eases out of her thirties is to discover that she cannot have a baby. As Michael Frank's What Is Missing opens, Costanza Ansaldo, a half-Italian and half-American translator, has traveled to Italy one summer to restart her life a year after the death of her husband, the famous writer Morton Sarnoff. She is turning forty and has made an uncertain peace with both her grief and her childlessness. Visiting the pensione in Florence where she spent many happy times as a girl, she meets Andrew Weissman, an acutely sensitive seventeen-year-old, and his father, Henry Weissman, a charismatic New York physician who specializes in—as it happens—reproductive medicine. These encounters change the way Costanza thinks about herself—and, eventually, her future. 
The three meet again that fall in New York, where the relationships turn and tighten with combustive effects that cut to the core of what it means to be a father, a son, and a potential mother.
Suspenseful and gripping, What Is Missing is a psychological novel that, like the author's prizewinning memoir, The Mighty Franks, asks who we are, and who those closest to us are, when life puts us to disturbing and powerful tests.
"Michael Frank's masterful and psychologically acute first novel—which leads us with equal confidence through the light-saturated streets of Florence and the hushed and polished halls of Upper East Side New York—asks the most urgent questions about biology and nurture, about filial and parental love, and about what we're willing to suffer to find out who we are. This is a wise and necessary book, one I've been recommending ardently to everyone I know."
— Julie Orringer
"This sophisticated erotic triangle of a novel is by turns sensuous and harrowing, driven by a point-of-view roulette that is masterfully played. For readers unfamiliar with the experience of assisted reproduction, Michael Frank's novel is an eye-opener. The ethics-straining extremes left me thinking about the dire need to balance power between women and men long after I sped to the last page."
— Rachel Howard
"Frank's memorable debut novel…is an intricate and dynamic examination of familial ties: both what strengthens them and what can tear them apart."
—Publisher's Weekly